Chemtech-Ford Laboratories has been serving the analytical needs of industry, government, local and state municipalities, and the private sector since 1953. In that year, Ford Laboratories began performing routine physical and chemical analyses for the food and dairy industry along the Wasatch Front. Within a year, Ford had expanded into the drinking water and wastewater analytical field and, as a result, became the area's first major environmental laboratory in the state.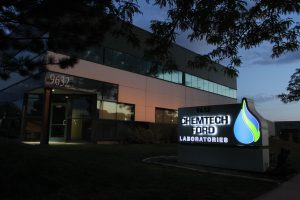 Chemtech Laboratories was founded in Orem, UT in 1982, providing drinking water and wastewater analyses. In 1992, Chemtech purchased a building in Murray, UT and relocated operations to that site.
In 1993, Chemtech Labs purchased Ford Labs and WestChem Labs of Elko, Nevada and renamed the company Chemtech-Ford Laboratories. Operations were merged at the Murray, UT facility which strengthened its already extensive analytical operations.
In 2013, Chemtech-Ford purchased a 32,000 square foot facility in Sandy, UT and remodeled the building into a state-of-the-art laboratory facility with over $1.0M in capital improvements.
In 2015, Chemtech-Ford purchased EnviroPro Laboratories and consolidated their operations into the Sandy facility.
In 2017, Chemtech-Ford announced a new business partnership between Timpview Analytical Labs and Chemtech-Ford. The companies combined forces to provide extended analytical services.
Chemtech-Ford currently provides a significant amount of analysis certified by NELAC under the Safe Drinking Water Act (SDWA), Clean Water Act (CWA), and Resource Conservation and Recovery Act (RCRA). Common analytical methods used include EPA, SM, ASTM, USP, USGS, and AOAC.